A Fresh Take on Italian Dining Opens in Southwest Las Vegas
A first look at Basilico Ristorante Italiano.
You can't be all things to all people. Yet a new Italian restaurant strikes an intriguing balance between authenticity and inventive touches while helping to shape the identity of a new community in the booming Southwest Valley of Las Vegas.
Basilico Ristorante Italiano is now open at Evora, a master-planned apartment development still under construction that won't be finished for at least five years. The 160-seat restaurant follows the vision of chef Francesco Di Caudo, a Sicily native who draws on his heritage and experience throughout Italy to build a compelling menu based on traditional techniques and modern ingenuity.
"I come from a country where farm-to-table is nothing new," says Di Caudio, while emphasizing the importance of ingredient sourcing and simple, straightforward flavor combinations.
Just look at the appetizers. Americans are used to eggplant parmesan that's breaded and fried without restraint. Di Caudo sticks to a traditional Sicilian recipe with the vegetable sliced thin, sizzled in a pan, and layered with tomato and basil. No mozzarella. On the other hand, the Smoked Cigar is destined to be a signature showstopper. Duck, foie gras, and porcini mushrooms are packed inside a thin, cracker-like shell, presented in a box, and dipped into a glass ashtray. The "ash" in the centre is a black sesame and truffle mix. Don't be shy about double dipping.
The risotto is bound to be another conversation piece. The recipe uses Carnaroli rice, a starchy grain from North Italy that produces a creamy texture, balancing the saltiness of a parmesan broth with a sweet splash of chestnut honey. The real surprise is the inclusion of Lavazza espresso, manipulated to crackle in your mouth like Pop Rocks candy.
All pastas are made in-house, from a parsnip cavatelli to a lamb and thyme tortellini in a broth filtered from braised prosciutto. Some dishes have a subtle Asian influence, including a hamachi crudo with pomelo (similar to yuzu), Hokkaido scallops with oxtail, and a planned octopus braised in dashi. The flavours come to life inside a sharp, contemporary dining room with deep red chairs and stone, wood, and marble touches. The wine collection is dominated by Italian labels, with a few California and Oregon picks thrown in to round out the list. Bottles are on display near the front entrance and inside illuminated square shelves. "It looks like a fancy restaurant, but when you sit down, I want you to have fun," adds Di Caudio.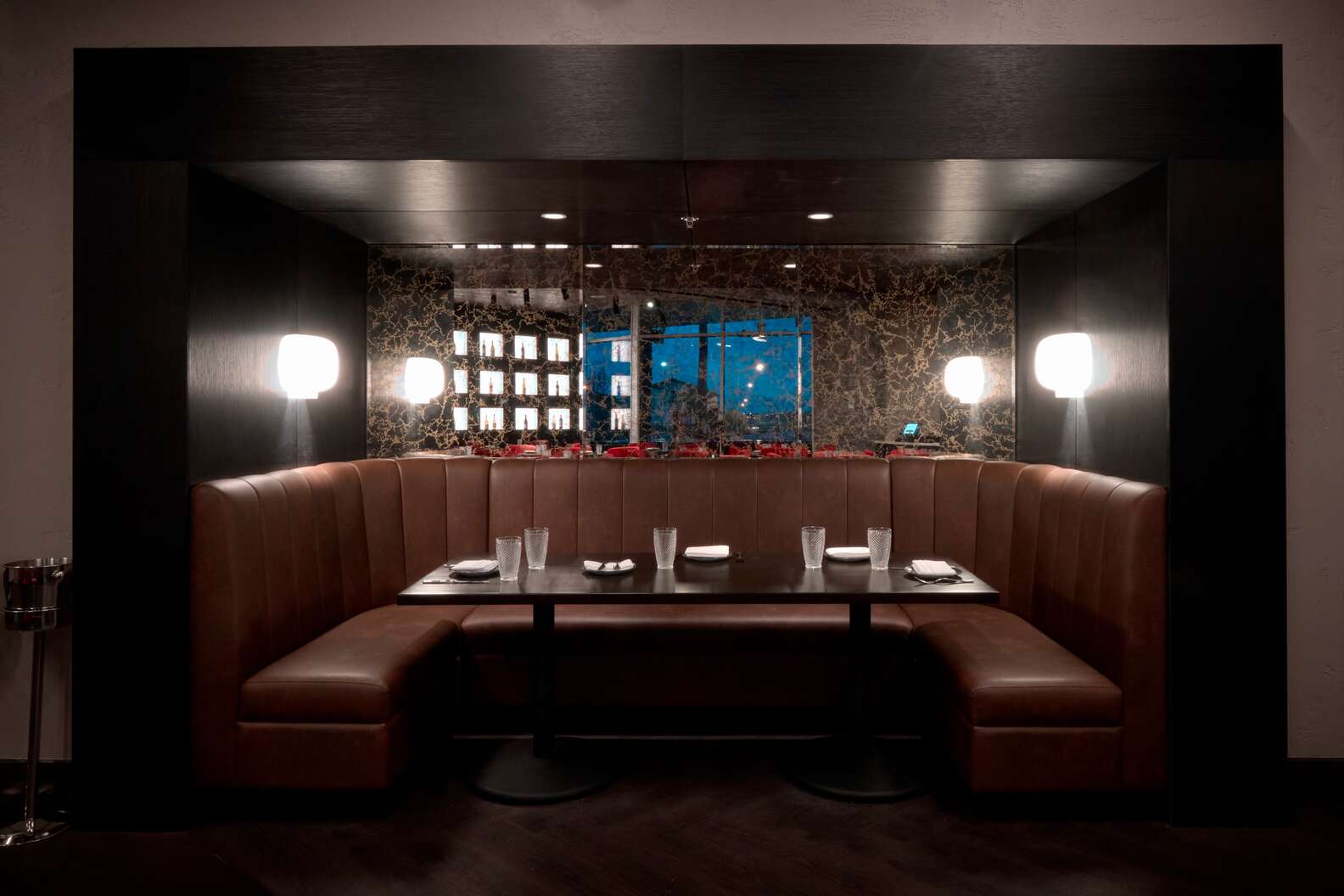 The bar is the heart of the restaurant, ready to serve up to 16 people inside and dozens more via accordion-style windows that open wide to a covered patio. The outdoor space, temperature-controlled with overhead fans and heaters, effectively extends Evora's open-air plaza with dramatic water and fire features. It's a natural spot for tastings and special events with a covered stage for live music. Evora is rolling out in four phases, with the first 342 apartments ready by fall. There could be as many as 1,400 when it's all said and done. Rent begins at around $1,800 for studios and one-bedroom units and goes up to $4,000 for two-story top-floor residences with a loft and Strip views. The community will include swimming pools, pickleball courts, a putting green, a dog park, firepits, EV charging stations, and pavilions equipped with audio and video features.
"Basilico matches the demographic for our apartments," says Danny Sorge of Digital Desert Development, the company behind the community. "The term 'youthful sophistication' has been thrown around about the restaurant and Evora as a whole. It brings something new to the area."
The development follows a deliberate strategy to have the commercial tenants in place before the first residents move in, occupying a stand-alone building that strikes a commanding presence on the corner of Patrick Lane and Buffalo Drive. Lemon Tree Cafe & Market is already open as a European-style grocery store with plenty of room to sit down with a sandwich and glass of wine. Keep your eyes peeled for Taps & Barrels (a self-service beer hall), Tachi Ramen, and EVOQ hair salon in the months ahead, with more businesses to come. The timing couldn't be better. The Southwest Valley is on fire right now, with the Durango hotel and casino and UnCommons mixed-use development taking shape as new attractions in 2023. The Bend, a long-promised shopping and dining district, has been in a holding pattern for years but holds promise in an area where everything is getting bigger and better.
Meanwhile, the team behind Evora is staking a claim with Di Caudio running the kitchen at Basilico. The chef's recent collaboration with Chef Oscar Amador helped Anima by EDO score a recent James Beard Award nomination and reputation as one of the best new restaurants in Las Vegas. Di Caudio first came to Las Vegas to work at Zeffirino at the Grand Canal Shoppes-a gig he expected to last about six months before returning home. Instead, he stuck around and continued to build his reputation at culinary destinations like Sinatra at the Wynn and Ferraro's off the Strip.
Ultimately, Basilico will be a restaurant to keep an eye on as it develops under Di Caudio's guidance. The menu will shift and evolve based on the chef's preferences and the availability of seasonal ingredients. Di Caudio is also planning a smaller menu and social hour for the bar area and a reasonably priced tasting menu with around 10 dishes served family style.
Get the latest from Thrillist Australia delivered straight to your inbox, subscribe here.
Rob Kachelriess has been writing about Las Vegas in Thrillist for more than nine years. In addition, his work has appeared in Travel + Leisure, Leafly, Supercall, Modern Luxury, and Luxury Estates International's seasonal publication. Follow him on Twitter @rkachelriess.