The Best New Bookstores in LA are Curated, Specific, and Personal
Discover a new favorite book, join a book club, and maybe even do some karaoke at the new wave of LA bookshops.
A couple of years ago, the legendary Powell's Books in Portland released a perfume designed to evoke the smell of a bookstore. The scent has notes of wood, violet, and the lovely and unusually precise word biblichor, the particular aroma of old books. The reality of the scent is what it is-mostly sweet and floral-but more important is the imagery it conjures. The best bookstores are both cozy and mysterious, familiar and surprising, with endless potential for discovery.
Los Angeles has a wealth of independent book sellers, including beloved legacy shops like The Last Bookstore, The Iliad, and Chevalier's. But a new wave of bookstores has been growing over the last few years, shops that eschew the traditional one-of-everything mindset to focus on specificity, curation, and point of view. There are bookstores with themes, bookstores that double as event spaces, bookstores that reflect their neighbourhoods, bookstores that take inspiration from a specific person-whether that's the shop owner, a historical figure, or a little bit of both-and so many more.
Like the niche-ification of the internet and the culture at large, these new and new-ish bookstores provide a space to discover books, ideas, and perspectives led by an expert, the kind of things that you may never have found on your own. They can also be a safe harbour for pure nerdiness, a place to dive deep into your favourite category or cause. To help you on your way, we've put together a list of some of the best new bookstores in LA, with a focus on curated shops with their own specific perspectives.
Pasadena
Pasadena is a famously book-friendly city, with bookstore royalty in the form of legendary Vroman's and its own literary alliance. Now it has one of the most exciting new bookstores too. Octavia's Bookshelf is owner Nikki High's tribute to the science fiction master Octavia E. Butler, who was a Pasadena native herself. The name of the shop provides a clue into High's inspiration, titles she imagines Butler would have had on her shelves, with a focus on BIPOC authors. The storefront is small, but the collection is impeccably curated and the space is cozy and welcoming for readers of all backgrounds.
Highland Park
Vertical integration can be a beautiful thing, especially when it allows independent creators more control over their products. The new North Figueroa Bookshop is a shining example of the concept, a storefront built on a collaboration between two publishers, Rare Bird and Unnamed Press. North Fig features titles from those presses, of course, including lots of striking literary fiction and memoir, but it also features a curated collection of other books. They've made it a point of emphasis to serve the needs of the local Highland Park, Glassell Park, Cypress Park, and Eagle Rock community-there's lots of fiction from fellow independent publishers, other general interest titles with a focus on California history and literature, and plenty of Spanish-language books.
Santa Monica
Speaking of vertical integration, there's another new combined publisher and bookstore on the other side of town. Zibby's Bookshop is the brainchild of Zibby Owens, Sherri Puzey, and Diana Tramontano, and it's the physical home of Zibby Books, a literary press that releases one featured book a month. That system is designed so that each book gets the full attention and resources of the press. Owens is an author, podcaster, and book-fluencer, and she has become something of a lit-world mogul with a magazine, podcast network, event business, and an education platform too. The shop has a unique sorting system, built around a feeling for each book-in store many of the shelves are labelled by interest or personality type, like "For the foodie," or "For the pop culture lover." On their webshop, you can browse for books that make you cry, escape, laugh, lust, or tremble. There are recommendations from Owens and the staff, sections for local authors, family dramas, and books that have just been optioned. If this all seems a little overwhelming, you should probably avoid the section dedicated to books that make you anxious.
Inglewood
Inglewood native Asha Grant opened The Salt Eaters Bookshop in 2021 with a mission in mind-to centre stories with protagonists who are Black girls, women, femme, and/or gender-nonconforming people. Over the last year and change that it's been open, it has also become a community hub, a place for Inglewood locals and people from across town to drop in, to see what's new and to discover incredible works in the Black feminist tradition. They also host regular events like readings, discussions, and parties.
Montrose
Thankfully, legendary downtown bookshop The Last Bookstore's name is hyperbole, and owners Josh and Jenna Spencer have even gone so far as to open a second shop, Lost Books in Montrose. Instead of the technicolour whimsy of the book tunnel at The Last Bookstore, Lost Books has a tunnel of plants that welcomes you into the shop, which opened in the summer of 2021. They sell those plants in addition to books, and coffee and vinyl too, which makes Lost Books a lovely destination and a fun little surprise in the quaint foothill town just off the 2 freeway.
Echo Park
Ok, this one is fudging the criteria a little-Stories has been open for almost 15 years. But over those years the shop has become a pillar of Echo Park community life, hosting readings, discussions, and events, and their cafe tables function as a de facto office for about half of the neighbourhood on any given afternoon. After the tragic recent passing of co-owner and Echo Park fixture Alex Maslansky it seemed like the shop's future was in doubt, but thankfully after a brief hiatus co-owner and co-founder Claudia Colodro and the staff were able to band together to reopen and keep the beloved cafe and bookstore going strong.
Long Beach
The name alone makes it clear what you're getting at Page Against the Machine-revolutionary progressive books, with a collection centred on activist literature, socially conscious writing, and a whole lot of political history. The shop itself is small but the ideas are grand, with fiction by writers like Richard Wright, Colson Whitehead, and Albert Camus next to zines about gentrification and compendia of mushroom varieties. They also host regular readings and discussions.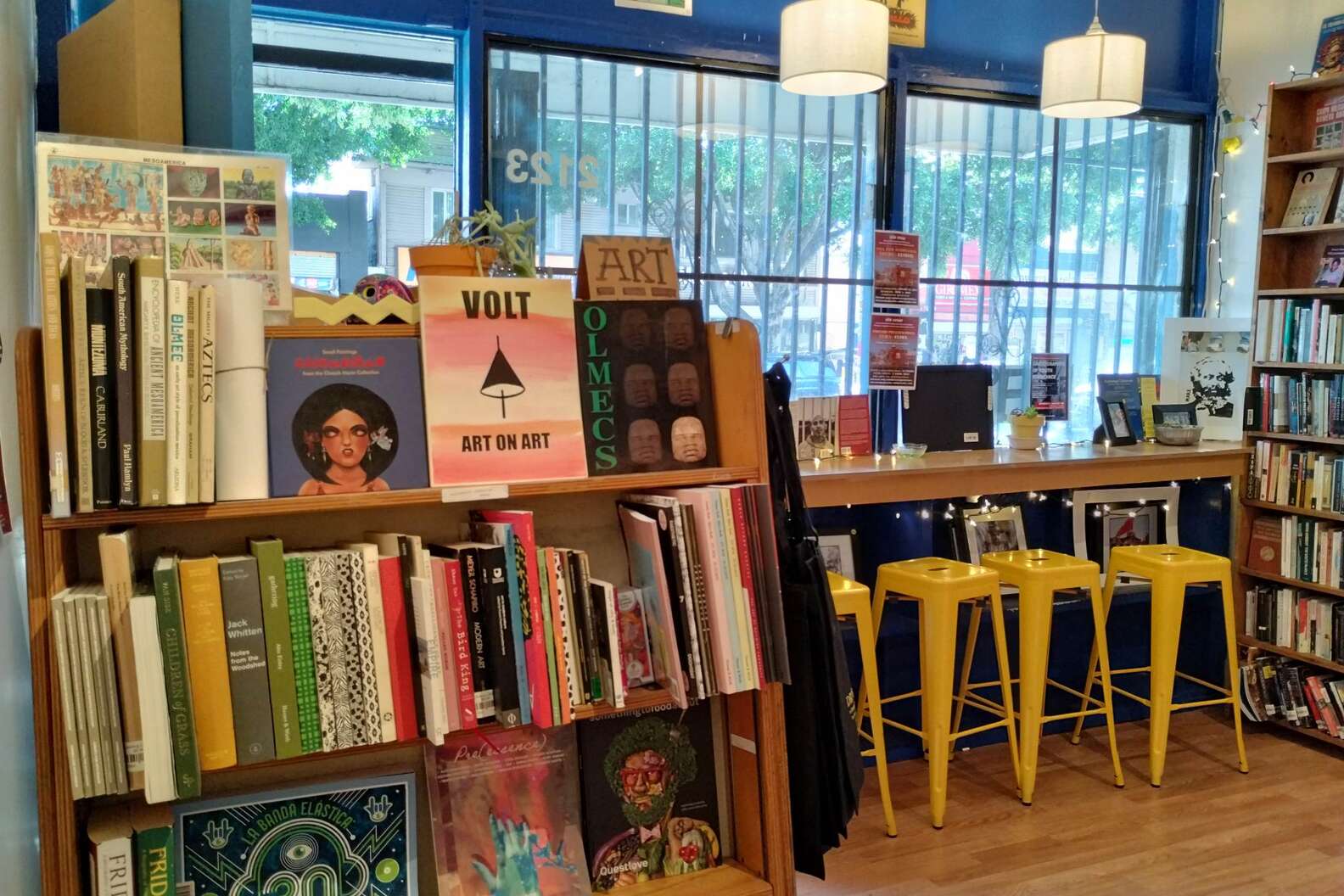 Boyle Heights
Boyle Heights has its own small but mighty combined bookstore, art gallery, gathering space, and small press in Viva Padilla's Re/Arte. Padilla is a poet, translator, editor, and curator, and as a South Central LA native and the child of Mexican immigrants, she's focused on Chicanx and Latinx art, literature, and social criticism. Re/Arte's collection has a wide range of books, from classic Latin American literature to modern essays and everything in between. Re/Arte is also now the headquarters for sin cesar, a literary journal that publishes poetry, fiction, and essays from Black and Brown writers. There are always community-focused events happening too, from regular open mics and zine workshops to film screenings and more.
Westchester
Most bookshops host events, but few host them with the regularity of The Book Jewel, the two- year-old independent bookstore in Westchester. Their calendar is so full with readings, several different book clubs, signings, and meet and greets that there are sometimes multiple events on the same day. The shop also hosts a ton of family-focused readings, with regular storytime on Sunday mornings often followed by a talk with the author. It's a great fit for the relatively low-key (but not exactly quiet) suburban neighbourhood, and it's no coincidence that storytime lines up with the Westchester Farmers Market, which takes place right out front.
West Adams
Most bookstores lean into coziness, aiming to be a hideaway for some quiet contemplation or maybe a quick sotto voce chat-not so at Reparations Club, the exuberant and stylish concept bookshop and art space on Jefferson. Owner and founder Jazzi McGilbert and her staff have built a beautiful and vibrant shop full of art from Black artists, including books but also records, candles, incense, clothing, and all sorts of fun things to discover. There's a perfect seating area to sit and hang out for a while, and they host a range of wild and fun events from readings to happy hours, panel discussions to karaoke nights and more.
Get the latest from Thrillist Australia delivered straight to your inbox, subscribe here.
Ben Mesirow is a Staff Writer at Thrillist.