How to Spend a Weekend in Topanga Canyon
Nature and the arts collide in this beloved canyon community.
Situated in the Santa Monica Mountains and known for its vibrant creative community, Topanga is one of Los Angeles's most prized destinations for art and outdoor enthusiasts alike. And while LA boasts its own sprawling landscape of fun to tap into, you'd be remiss to miss a chance to explore this tucked-away collection of state parks, and cafes, and restaurants-especially when it all rests just 20 minutes away from the city. From a quaint café with dazzling canyon views to a world-renowned, open-air theatre, here are the best ways to pass some time in Topanga now.
Friday
Book dinner at Inn of the Seventh Ray
Owner Lucille Yaney opened this iconic restaurant in 1975 after spotting the property on a drive through the canyon with her late husband Ralph, and it's safe to say she had a good eye. The land perfectly fits into Yaney's vision of a romantic, alfresco dining space with tables tucked into cozy nooks and gazebos, all beneath canapes and fairy lights. Today, Yaney co-owns the venue with executive chef consultant Brad Miller. Together, they continue to fulfil the restaurant's original mission to serve pure, natural foods reflective of the season's best. That approach appears in dishes like 8-Hour Black Vinegar Braised Short Rib with creamy rosemary polenta, duck bacon Brussels sprouts, and caramelized onion and fig jam; Roasted Mushroom Toast with oyster mushrooms and sherry tarragon cream; and Beets & Whipped Black Pepper Creme Fraiche. Consider the carbs here. Pastas and sauces are made in-house and from scratch, as is the bread (available regular or gluten-free), an order of which you won't want to miss. Check out the wine list, too, which offers a robust organic and biodynamic selection that has helped the restaurant garner some impressive accolades in recent years.
Check into Topanga Canyon Inn
In addition to plenty of excellent Airbnbs available to rent in the Canyon, there's Topanga Canyon Inn, a charming bed and breakfast comprised of two Mediterranean-style buildings-Casa Blanca and Casa Rosa-both built by the owners. Guests can enjoy bespoke design details in each room, along with gorgeous mountain views from their own private balcony. Come morning, join other travellers for breakfast, served daily at Casa Rosa.
Saturday
Get coffee at Café on 27
Ready your camera for a coffee date at this AM eatery and café, where ample (and busy) outdoor seating offers some of the Canyon's best views. A full breakfast and lunch menu is available (complete with hearty orders like eggs Benedicts, soups, and club sandwiches), but for lighter morning fare, spring for a pastry and any of their specialty drinks, such as the turmeric latte or Moroccan mocha.
Hike Topanga State Park
Spanning 11,000 acres and 36 miles of trails, Topanga State Park is the largest state park within the Santa Monica Mountains and one of the world's largest parks within city limits. Visitors can access the grounds via more than 60 entrances. Once on the trails, enjoy sweeping vistas while exploring the region's range of plants, habitats, and wildlife, including several resident bird species.
Grab lunch at Topanga Living Café
Guided by their Topanga upbringing and need for a community gathering spot with great eats, sibling team Agustina Ferguson and Bayu Suryawan opened this daytime eatery in 2016. Ever since, locals and visitors have found refuge in the café's warm, airy space and nourishing, hyper-fresh fare-all California-inspired with global influences. Check it out in plates like the Island Style, a breakfast salad with Balinese corn fritters, a poached egg, and house-made chilli jam, or the tacos (Baja Fish or Baja Shrimp, Carne Asada, or Kabocha Squash), made-to-order and served on handmade tortillas. If you're seeking something shareable, try the Farmers Market Crudite, a seemingly humble order whose bright beet hummus reminds us that eating your vegetables is, indeed, very cool. And take a drink to-go. The team here takes great pride in their coffee (organic espresso, courtesy of their iconic pink La Marzocco machine) and a lineup of made-to-order smoothies, juices, and teas. Shop your way through town
Visitors can stroll through the town centre's most popular shops for various fun finds, including Moona Star, Pebbles, and Topanga Homegrown. Be sure to stock up on specialty, local snacks at Canyon Gourmet and satiate your sweet tooth while you're at it. The organic soft-serve there is a must. Pro tip: Top it with any of their artisanal syrups for a winning combo, namely, the vanilla with cardamom.
Catch a show at The Will Geer Theatricum Botanicum
This beloved open-air theatre has hosted productions for decades and is recognized worldwide for its Shakespeare interpretations. In addition to its annual summer season, which includes works like Macbeth and A Midsummer Night's Dream, the venue hosts concerts, rehearsals, and classes throughout the year for budding actors and playwrights of all ages.
Snag a slice at Endless Colour
This family-run pizza joint specializes in from-scratch pies with clever topping combinations (think purple potatoes, fontina, and truffle oil in the Purple Molly Potato or spinach, leeks, and goat cheese in the Super Greens). Bring some friends, order a pie or two, and check out the drinks list, which includes offbeat options like orange wines and hard kombucha.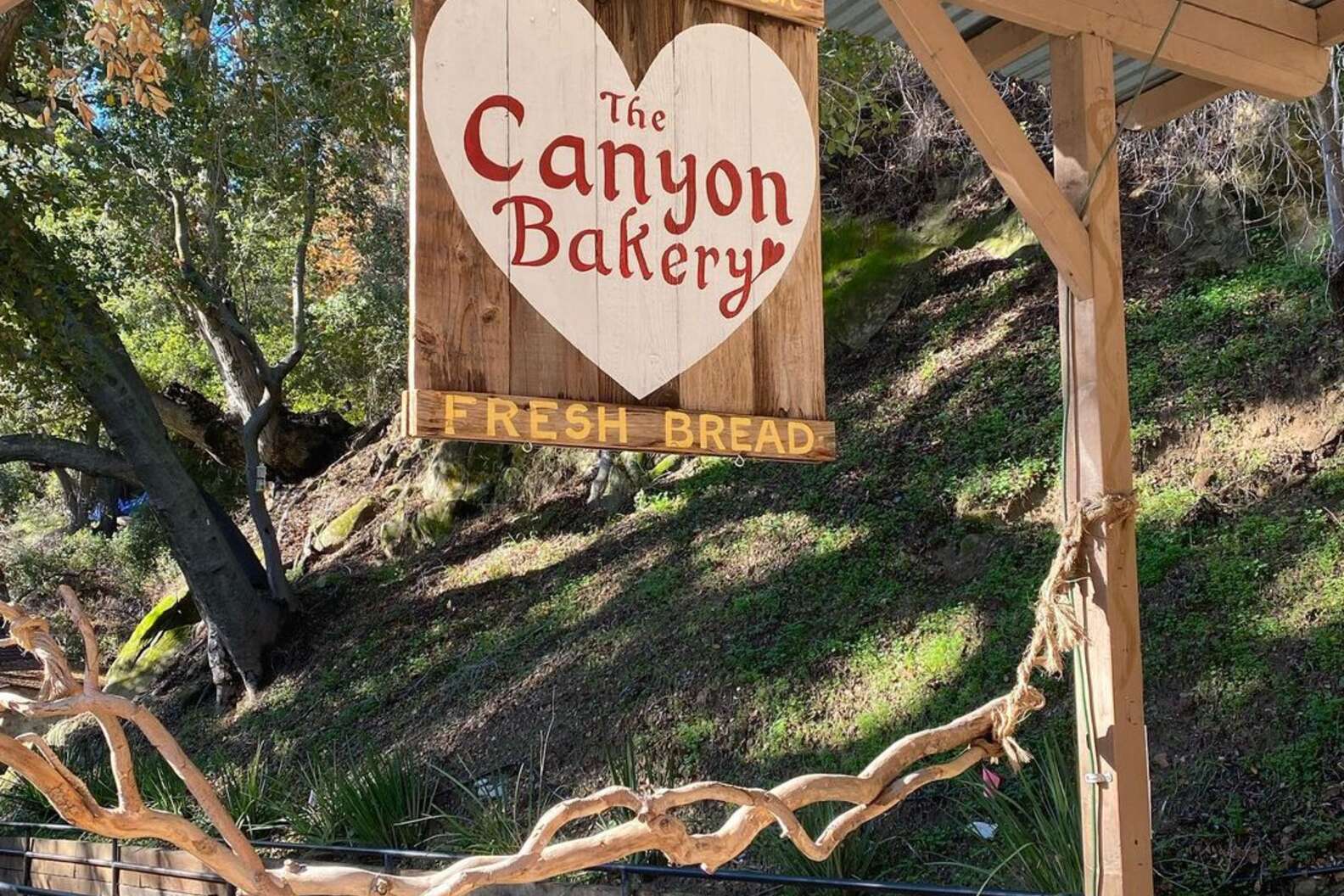 Sunday
Check out The Canyon Bakery's "Sunday Funday"
Situated on the grounds of the aforementioned Will Geer Theatricum Botanicum, this bakery specializes in naturally leavened breads, pastries, cakes, and cookies using locally sourced, whole grain flours. There's a takeout window on Sundays, from 9:30 am until the bakery sells out. A strong following lines up for favourites, such as whole grain croissants and gluten-free pizza, so be sure to arrive early to get your fill.
Try tacos to-go at La Chingona
On your way out of town, grab some tacos at La Chingona, where a team puts forth fresh, organic, gluten- and dairy-free tacos. Orders range to include options like grass-fed beef (carne asada), shrimp (wild-caught), and soy chorizo and can be fashioned into plates beyond tacos, too (think tostadas, salads, and bowls). Open only on Tuesdays, Fridays, and Sundays; this taco stand sees good demand. Plan accordingly, pending your travels, especially to savour an order or two of the churros.
Get the latest from Thrillist Australia delivered straight to your inbox, subscribe here.
Nicole Schnitzler is a contributor for Thrillist.