Get Lucky at These Irish Bars in Austin
Drink a green pint on St Patrick's Day at these Irish bars in Austin.
In the midst of all the SXSW chaos, it helps to remember that there's a rainbow at the festival's end-that is, the hangover-blessing we've been granted of having St. Patrick's Day 2023 fall on a Friday. Whether you attribute this small win to the Gregorian calendar or the luck of the Irish, it's sure to amp up the already liver-damaging activities associated with this cultural celebration. However, Éire is more than just leprechauns and Colin Farrell-it's a breathtaking land full of warm, welcoming, and good-hearted people. Fortunately, there's a way you can get a taste of the Republic's spirit, and a dark stout, at the same time by hitting up one of Austin's various Irish pubs. From cozy, intimate spaces decked out like small taverns in Cobh, to modern dives with all the party energy of Temple Bar, our list has the best spots in the city to "erin go bragh" all out on March 17.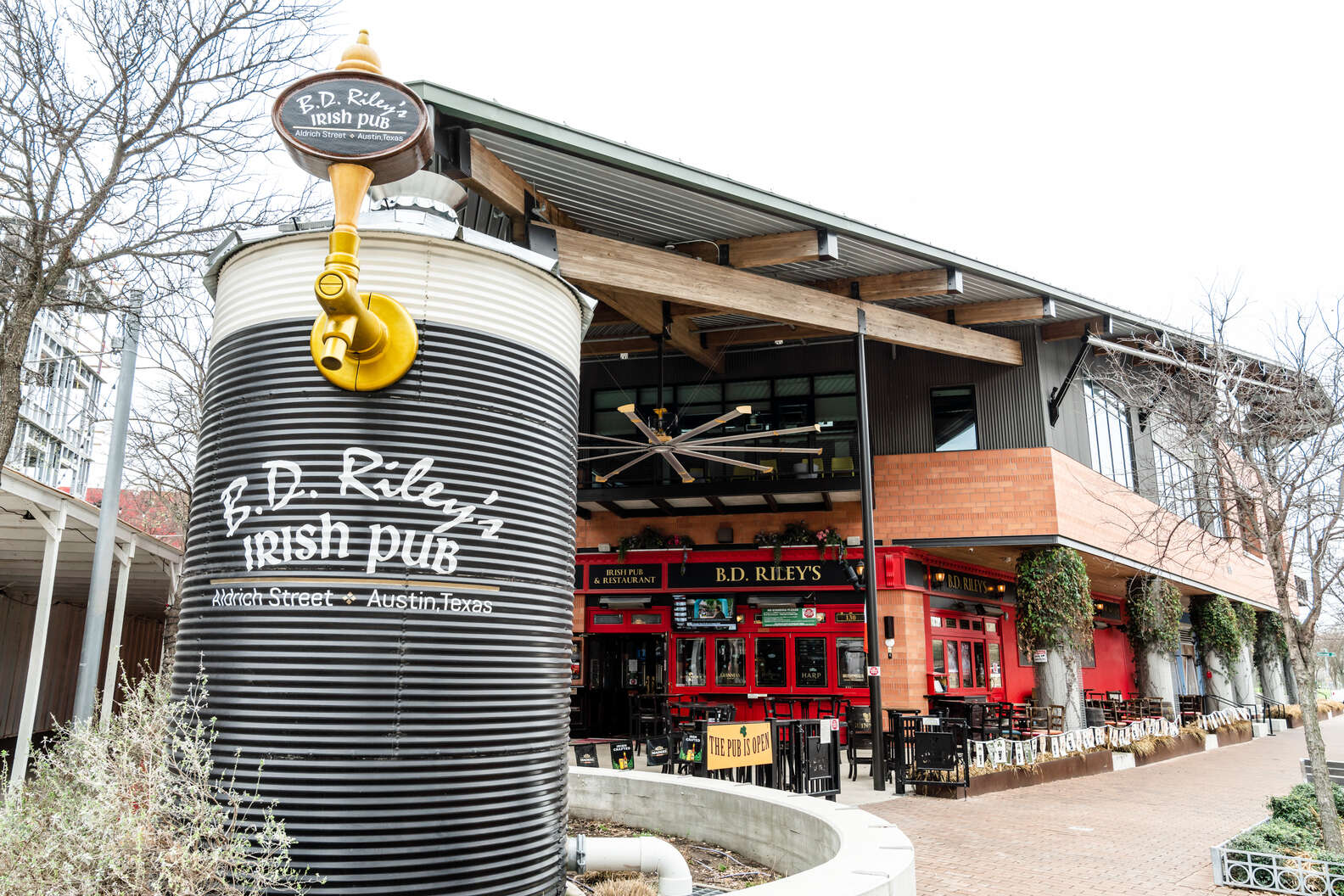 Mueller
With a giant model of a beer tap literally decorating their front door, you can't miss B.D Riley's, nor doubt that this East Austin hang is a spot to down some serious brewskis. And its name, and perfect pours of Guinness, aren't the only aspects they draw from the Emerald Isle-the entire pub itself was actually designed and built in Dundalk, Ireland, and shipped over for assembly in Bat City. Such authentic decor calls for equally authentic sounds, therefore, on St. Patrick's Day, B.D. Riley's will feature an all-day, four-artist bill of live, trad-inspired music. So, while you may not start the day knowing all the words to "The Galway Girl," you are bound to sing along by last call.
Bouldin Creek
Having only opened this past December, Kelly's is the new kid with a brogue on the block. Occupying the space which formerly housed tapas restaurant Winebelly, this pub had big shoes to fill for South Austin barflies, but quickly won them over with an impressive whiskey selection and friendly atmosphere. A big reason behind the real deal Éire vibes can, most likely, be chalked up to the fact that one of Kelly's owners was actually born and bred in Ireland-and the dedication to delivering a true-to-life experience is evident in everything from the shepherd's pie to the witty bartenders. For St. Patrick's Day, they are getting the party started early with live music and an opening time of 8 am.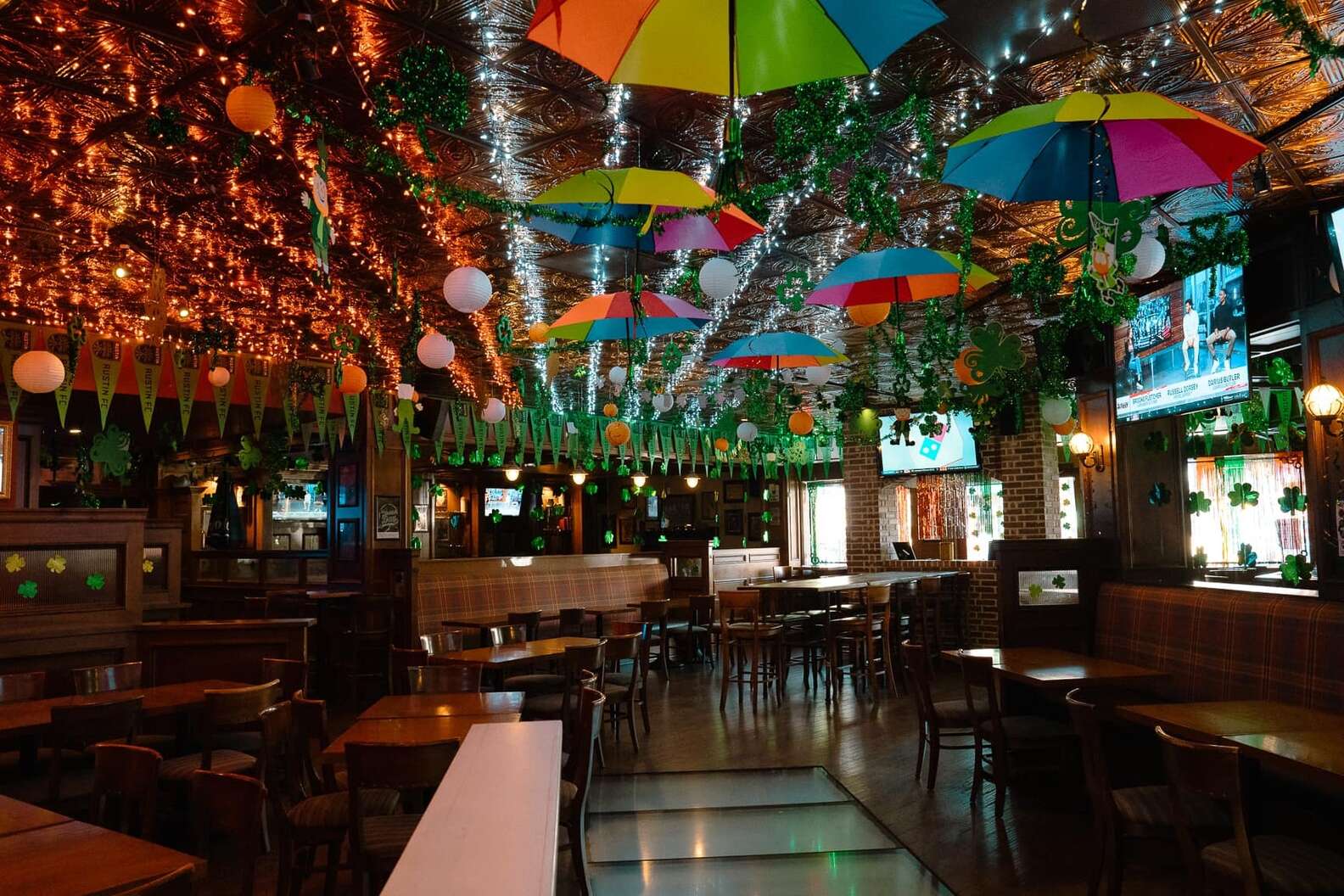 The Domain
While The Domain may boast more bars than you can shake a shamrock at, there's only one spot in the North Austin entertainment behemoth that can be properly called an Irish pub: Jack & Ginger's. Start off the night with selecting a tasting flight from their over 82 beers on tap, then, move onto shots poured straight from their Irish Whiskey Tours-after loosening up with a round or two, you might just find yourself with the gift of gab. And, before snapping a selfie over Jack & Ginger's see-through glass floor, balance out that buzz with food offerings like a giant soft pretzel or a round of fried pickles.
Downtown
Here's a spot that visibly radiates with Irish pride-at Foxy's, the glow of green beams out from the bar's lighted panels, and across their chandelier made of Jameson bottles. When it comes to cups and chow, their commitment to the theme continues-the use of the word,"proper," in the pub's name alone indicates you're in for a heavy pour of the standards. Consequently, the taps are abundant with essential Irish sips, including Guinness, Magners, and Smithwick's. With Lone Star on draft, there's also a nod to Texas tradition as well. But don't fear if you're bored of beer-Foxy's variety of whiskey-based cocktails will let you switch it up (and still keep it Celtic). March 17 will find them celebrating with live music, whiskey tastings, and swag giveaways.
Round Rock
Compared to a flight to Dublin, the 30-minute drive to Round Rock's Cork & Barrel is much more convenient-not to mention, won't require waiting in a TSA line. A mix between a modern Austin beer garden and a historical Irish pub, this spot's spacious interior and expansive outdoor patio guarantees there will be enough room for the whole crew to cheer "sláinte." And, their microbrewery's signature beers are the ideal drinks to do such a toast with. The menu of specially crafted drafts includes a blueberry wheat, an Irish red ale, and a vanilla stout. This St. Patrick's Day also marks Cork & Barrel's two-year anniversary, and they are throwing down for the double-celebration with live music, yard games, Irish food specials, and plentiful amounts of green beer and Irish Car Bombs.
Get the latest from Thrillist Australia delivered straight to your inbox, subscribe here.
Molly Moltzen is a Thrillist contributor.