How to Celebrate Women's History Month in San Diego
Check out female-led dance programs, pop up markets, beer dinners, and more events this March.
Women have played a huge part shaping San Diego into the city it is today. In celebration of Women's History Month, there are a variety of events across the city that commemorate women's contributions to our community and culture. Home to the Women's Museum of California, which hosts events throughout the year, be sure to check out all the ways to support and honor women this month. From art exhibits to dance performances, pop-up markets and yoga, check out the best events to celebrate Women's History Month in San Diego:
Ongoing through November 7, 2023
Balboa Park
The San Diego Museum of Art currently has 20 modern and contemporary works of art on display from women who unjustly didn't receive the same amount of fame as their male contemporaries. The museum's Modern Women exhibit is your chance to see work from artists like Elaine de Kooning and Lee Krasner, who were overshadowed by artist husbands Willem de Kooning and Jackson Pollock but whose work has long deserved its own moment in the spotlight. The collection showcases pieces that range from acrylic paintings to photography, inviting us into an untapped artistic sphere.
Cost: $20
Saturday, March 4, 10 am to 11 am
Pacific Beach
Make a difference in the lives of teen girls of colour while taking a yoga class at Kate Sessions Park. Organized by local nonprofit One Love Movement, all donations for the event go towards college scholarships for girls of the DETOUR F.A.N.C.Y. Expo & Leadership Academy, a mentorship program that promotes equity and inclusion in higher education for girls of colour. All while enjoying stunning views of Mission Bay.
Cost: Donation-based
Sunday, March 5, 1 pm to 5 pm
Middletown
What better way to celebrate the women in your community than by supporting their local businesses? The Women's History Month Market, located in the FEMX Quarters venue, is a pop up market you don't want to miss. The market will feature over 35 vendors from women artisans and you'll find uniquely crafted sunglasses, jewellery, clothing, and more. The family-friendly (and pet-friendly) event will also include food and music.
Cost: Free
Wednesday, March 8, 6:30 pm to 10:00 pm
Escondido
Women were the original brewers of ale, after all, so it only makes sense to honour our past and present beer connoisseurs with dinner and brews. Located at Stone Brewing World Bistro & Gardens, Stone International Women's Day Beer Dinner features three courses, each paired with a tasty beer specially brewed by a team of women at Stone Brewery. The event is part of a larger global celebration for International Women's Day, where brewers all over the world brew a speciality beer that supports The Pink Boots Society, a non profit that empowers women and non-binary people in the beer industry through scholarships and education. Grab your tickets while you can! 21+
Cost: $50-$70
Saturday, March 11, 5:00 pm
Barrio Logan
Head over to the entertainment and community venue Corazon del Barrio and show your support to female and non-binary artists, whose art and music will be featured in the Diosa Art Show. Around 40 artists are on the bill at this all-ages event.
Cost: Free
Saturday, March 11, 12 pm to 4 pm
Carmel Mountain
If you need another excuse to down some brews, Second Chance Beer Company is hosting its first ever Ladies & Pups Market for Women's History Month. The brewery, which holds various events throughout the year, donates a percentage of its sales to animal rescue organizations in California and Arizona. The dog-friendly market will include pop ups from women-owned businesses such as Bold Bouquet, Wet Nose Pottery, and No, You Sit! Treats. For the occasion, Second Chance will serve Fistful of Gummies – Berry Edition, a rendition of their fruited sour beer created in collaboration with Pink Boots Society, an organization that supports women and non-binary individuals in the beer industry.
Cost: Free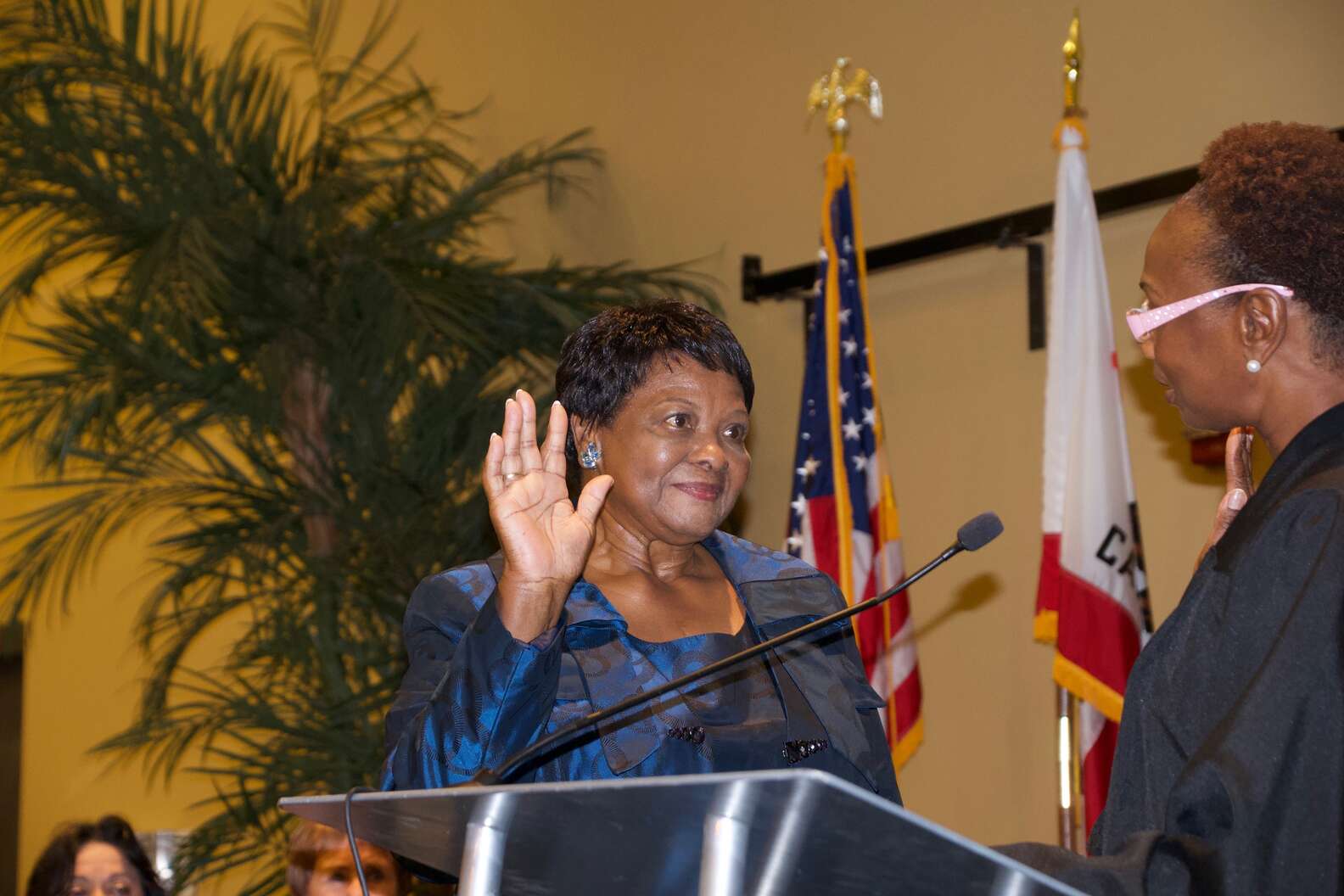 Saturday, March 18, 11 am to 1 pm
Rolando
Perhaps San Diego's largest Women's History Month event, the San Diego County Women's Hall of Fame recognizes local women for their achievements in the community. The annual event, which takes place at Joan B. Kroc Theatre, is a project of the Women's Museum of California, a museum dedicated to educating the public about women's contributions through history with exhibits, programs, and events. Over 100 women have been inducted into the Women's Hall of Fame since the program was founded in 2001, and this year's class includes notable women like activist Norma Chávez-Peterson and Chula Vista Mayor Mary Casillas Salas. The event includes a VIP brunch followed by the Induction Ceremony. Be sure to purchase tickets early to secure your spot.
Cost: $20-$150
Monday, March 20, 5 pm to 7:30 pm
Miramar
The Women's Speaker Series at Alesmith Brewing Company is a monthly community gathering where local women come together to support one another in achieving professional and personal goals. The event includes a social hour followed by a selected speaker. For this month, the Women's Speaker Series features career coach and small business owner Laura Bashore, who will share her insight on how you can advance your career or business. Make sure to reserve your spot before attending!
Cost: Free
Tuesday, March 21, 1 pm to 3 pm
Mission Valley
In the early 20th century, many women were not allowed or expected to be the breadwinners for their households, but things suddenly changed with the United States' entry into World War II. Here's your chance to learn about the real experiences of women who lived through WWll and how they navigated through it all. Presented by Oasis San Diego, head over to Mission Valley Library to attend this in-person event.
Cost: Free
Thursday, March 23 – Saturday, March 25 & Monday, March 27, 7:30 pm
Liberty Station
Experience not one but three world premiere ballet performances at The Rosin Box Project, a contemporary ballet company that works to redefine the concept of dance and how it's experienced for both artists and audiences. To coincide with Women's History Month, TRBP is kicking off its 2023 season with Empower, a female-led ballet program choreographed by TRBO Residents Lauren Flower, Bethany Green, and Carly Topazio. The program, which takes place at Light Box Theater, offers a fresh take on dance by pushing the boundaries of traditional ballet. Your ticket includes a post-show reception.
Cost: $45
Friday, March 24, 6:30 pm to 7:45 pm
Balboa Park
While you may not be familiar with composer Alice Barnett Stevenson, she played an integral part in San Diego's music scene during the early 1900s. Stevenson was an active member of various music organizations at the time, and she composed art songs for voice and piano and performed at schools all over the country. Her home became a hub for local recitals from visiting musicians, and was also where the San Diego Symphony was founded. This month, you can hear her compositions performed live for the first time in nearly 100 years at the San Diego History Center. Selected works by Stevenson will be performed by musical scholar Katina Mitchell and pianist Yewon Lee. Be sure to reserve tickets ahead of time.
Cost: $25-$40
Saturday, March 25, 12 pm to 4 pm
Valencia Park
In celebration of Women's History Month, the Friends of Malcolm X Library are hosting Ain't I a Woman, an event featuring Black women who will be speaking about their professions and discussing the challenges faced within the workplace and the community while offering suggestions on how to further enhance and embrace equality. The event includes a Q&A panel discussion, door prizes, free raffles, as well as music, poetry, and dance. Seating is limited so be sure to reserve your spot early.
Cost: Free event. Lunch purchase is $15.
Get the latest from Thrillist Australia delivered straight to your inbox, subscribe here.
Michelle Harris is an Editorial Assistant at Thrillist. Over the years her writing has also appeared in Atlas Obscura, Mental Floss, and Audubon Magazine. When she's not busy typing, she enjoys hiking, road trips, and cooking vegan food.