Where to Go on a Perfect Date in New Orleans This Spring
Woo that special someone with sultry live music and inviting outdoor date ideas.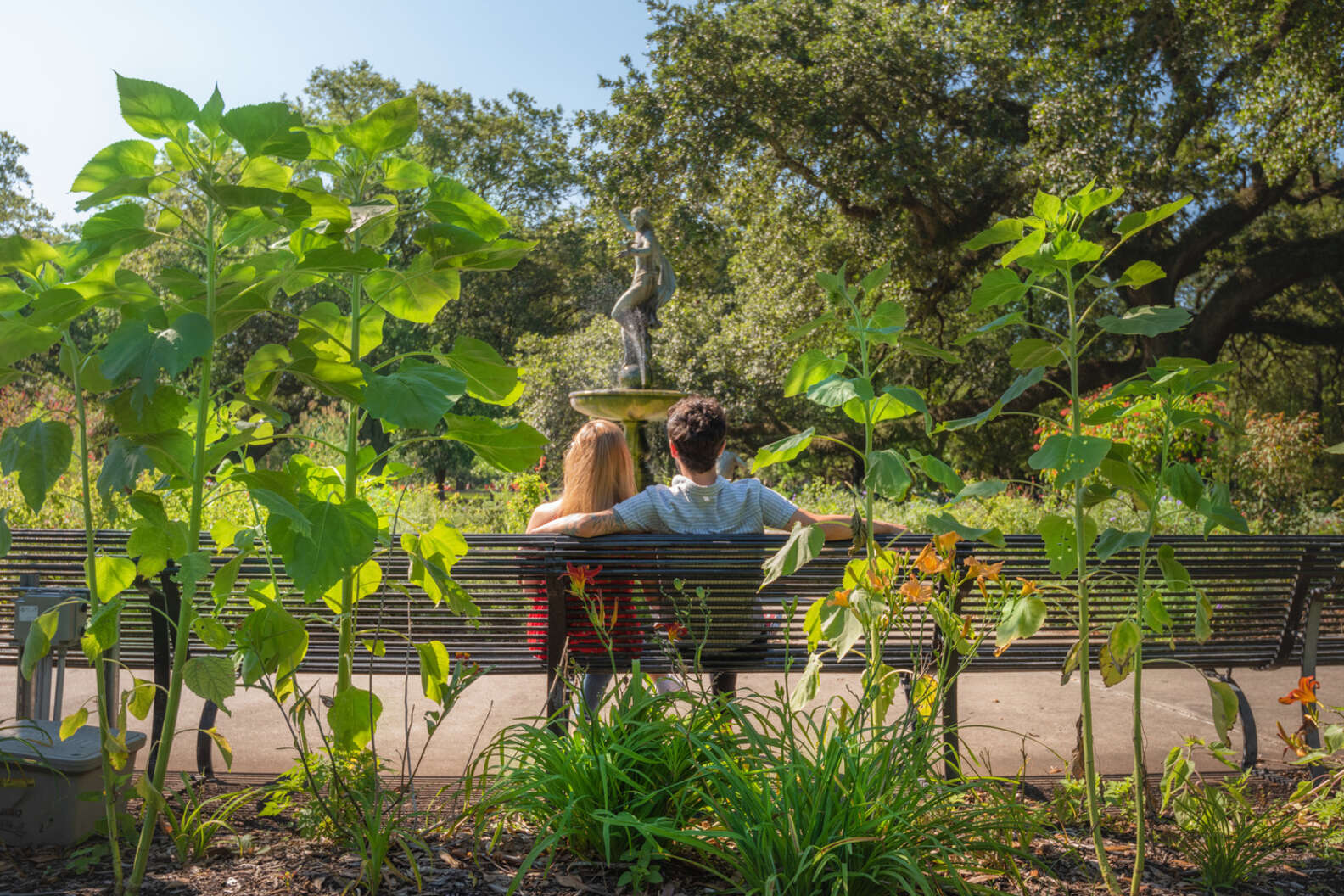 Whether you're searching for the perfect spot for a first date or looking to spend some time with your longtime love, you should have no problem planning a romantic outing in New Orleans. Our amazing restaurants and bars are classic settings for some quality time, but think outside the date night box and literally get outside. Spring is the most gorgeous time of year here, so you can score some serious romance points. From strolls in the park and outdoor music to cozy wine bars and sultry jazz nights, here are some can't-miss ideas for the perfect date in New Orleans.
Spend an afternoon in City Park
Mid-City
One could spend hours strolling beneath City Park's moss-drenched oaks, but combine this beautiful setting with the park's other offerings and you've got yourself a date. Start with coffee and beignets at Cafe du Monde to ease into things. Explore the collections at the New Orleans Museum of Art or stroll through the sculpture garden. Continue your romantic walk around the Big Lake, or rent a boat and paddle your way around. If things are going well, finish up with a well-earned drink and a bite at Ralph's on the Park.
Grab bagels and bike on the Greenway
Mid-City
Bike the Lafitte Greenway and you'll get moving while having plenty of time to connect. Fuel up at Flour Moon Bagels with coffee and stellar carbs before you hit the pavement. The Greenway's linear path is 2.7 miles, but you can make it a longer ride by linking up with the Wisner Trail or the Norman C. Francis bike path. The Greenway goes all the way to the Quarter, but you can save that for another date. End up back where you started and cool down with a pint or two at Skeeta Hawk Brewing.
Create some Magazine Street magic
Uptown/Garden District
Magazine Street boasts six miles of unique, locally owned businesses. There are plenty of one-off date options along the street (like grabbing coffee and chocolate at Piety and Desire, having a romantic dinner at Coquette or Saffron, or ordering wine and small plates at Saba). But for a longer get-to-know-you date, the street is perfect for an all-day stroll. Browse esteemed art galleries and shops, have a well-made cocktail at Bouligny Tavern, stop for fresh oysters at Basin, taste a few wines at Spirit Wine, and admire the mix of architecture along the street. Why stop there? Shop for some vinyl at Peaches, grab a casual dinner at Picnic Provisions & Whiskey or Tito's, then see who's playing at Le Bon Temps.
Take in the West Bank nature and noodles
Marrero
Take the Crescent City Connection and head down to the Barataria Preserve to explore acres of secluded wetlands that'll confirm you're really in south Louisiana. A boardwalk winds through swampy land packed with all the best regional flora and fauna, including alligators. April is typically peak iris season, so check the bloom forecast. Before you head back across the river, stop by Tan Dinh or 9 Roses for excellent pho and other Vietnamese faves.
Go on a wine bar crawl
Various locations
A wine bar presents a perfect middle ground between grabbing casual beers and sipping superior cocktails. You've got chill environs, curated selections, and just enough nibbles to sustain your conversation. Second Vine Wines and Faubourg Wines are thoughtfully curated shops that serve wines by the glass, so you can start off with a couple of glasses then buy a bottle if the date moves to another location. Tell Me Bar and Pluck offer rotating selections of intriguing wines you'll want to learn more about. And of course there's Bacchanal, where you can enjoy wine, good vibes, and live music under the stars.
Cross the river by boat
Algiers Point
There's something undeniably romantic about standing at the bow of a boat with wind blowing through your lover's hair, so take the Algiers Ferry to behold the mighty Mississippi and gorgeous views of the city. Stroll charming Algiers Point, grab a drink with the locals at the Old Point Bar or Crown and Anchor, and then enjoy dinner at Tavolino, Tonti's Hand, or Plume.
Saunter down St. Charles Ave
Uptown/French Quarter
The streetcar is an underrated date option-get to know each other while rolling past the majestic St. Charles Avenue mansions. Start with a late afternoon drink at The Chloe before hopping aboard. Once you're in the Quarter, take a spin around the bar with a cocktail at Hotel Monteleone, take a stroll through Jackson Square, then pick from swoon-worthy dining options like St. John, Jewel of the South, Cane & Table, Doris Metropolitan, or MaMou.
Explore Lake Pontchartrain
Lakefront
Take a trip out to Lake Pontchartrain for some sun, fresh air, and seafood. Cruise Lakeshore Drive, check out the Mardi Gras Fountain, maybe take a roll down the levee to connect with your inner child, then sit and watch as the boats and birds go by. As the sun sets, head over to The Blue Crab for fresh seafood or JB's Fuel Dock at West End Park for pizza and beers.
Let music and lounge vibes set the mood
Various locations
Let someone special know just how you feel by taking them out for a classy evening of fine cocktails and world-class jazz. Grab a prime spot to watch Jeremy Davenport do his thing at his namesake lounge at the Ritz-Carlton, listen to the smooth sounds of solo artists at the intimate Bayou Bar at the Pontchartrain Hotel, or pop into the Jazz Playhouse at the Royal Sonesta next time you do a French Quarter outing. For a new-school option, check out a performance at the Ace Hotel's Three Keys.
Go the extra mile with a day trip
Covington/Abita Springs
Driving the Causeway's 24 miles will give you plenty of time to go beyond small talk, making a nearby road trip the ideal activity for upping the ante on your relationship. Head to Covington to enjoy the boutiques and galleries of the quaint historic downtown before grabbing a bite at Lola or Tavi, or rent bikes and ride the Tammany Trace to the Abita Brewery where you can take a tour and sample some of the finest local beers. Even better, head over when the brewery is hosting one of its food truck roundups or live music.
Peel crawfish and sip local beer
Various locations
Spring means crawfish boils, and the city is loaded with experts bringing their boil skills to some of the top local breweries. Crawfish and beer make a perfect pair, and what better way to gauge relationship potential than by observing peel technique and spice tolerance? Check their calendars, but breweries including Faubourg Brewing, Urban South, NOLA Brewing, Miel, and Parleaux usually host boils on weekends throughout the season.
Get the latest from Thrillist Australia delivered straight to your inbox, subscribe here.
Gerrish Lopez is a Thrillist contributor.